A Perfect Square
When pianist Ginny Smith moves back to her mother's house in Sassafras after her breakup with the degenerate Garth, synaesthetic and eccentric artist Harriet Brassington-Smythe is beside herself and contrives a creative collaboration to lift her daughter's spirits: an exhibition of paintings and songs. Ginny reluctantly agrees.
Mother and daughter struggle to agree on the elements of the collaborative effort, and as Ginny tries to prise the truth of her father's disappearance from a tight-lipped Harriet, both are launched into their own inner worlds of dreams, speculations and remembering.
Meanwhile, another mother and artist, Judith, alone in a house on the moors, reflects on her own troubled past and that of her wayward daughter, Madeleine.
Set amid the fern glades and towering forests of the Dandenong ranges east of Melbourne, and on England's Devon moors, A Perfect Square is a work of remarkable depth and insight.
Available in print and ebook formats from Amazon or your favourite bookstore or online retailer.
Book Details
| | |
| --- | --- |
| Weight | 349 g |
| Dimensions | 216 × 140 mm |
| Extent | 268 pages |
| Format | Paperback |
| Language | English |
| Genre | Literary Fiction, Metaphysical |
| Release date | 29 August 2016 |
| ISBN | 9781922200457 |
| Imprint | Odyssey Books |
About The Author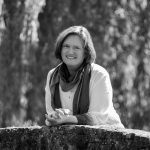 Isobel Blackthorn
Isobel Blackthorn is a full-time novelist who writes across a range of genres including mysteries and thrillers, historical and dark fiction. Isobel creates compelling and intelligent stories drawing on her rich and varied life. She holds a PhD in Western Esotericism and the occult features in most of her writing. She is the author of The Unlikely Occultist: A biographical novel of Alice A. Bailey, a significant work of historical fiction. Isobel gives voice to her lighter side with novels set on the exotic Canary Islands, Spain. She was shortlisted for the prestigious Ada Cambridge Prose Prize 2019.