A Perfect Square
When pianist Ginny Smith moves back to her mother's house in Sassafras after her breakup with the degenerate Garth, synaesthetic and eccentric artist Harriet Brassington-Smythe is beside herself and contrives a creative collaboration to lift her daughter's spirits: an exhibition of paintings and songs. Ginny reluctantly agrees.
Mother and daughter struggle to agree on the elements of the collaborative effort, and as Ginny tries to prise the truth of her father's disappearance from a tight-lipped Harriet, both are launched into their own inner worlds of dreams, speculations and remembering.
Meanwhile, another mother and artist, Judith, alone in a house on the moors, reflects on her own troubled past and that of her wayward daughter, Madeleine.
Set amid the fern glades and towering forests of the Dandenong ranges east of Melbourne, and on England's Devon moors, A Perfect Square is a work of remarkable depth and insight.
Available in print and ebook formats at your favourite bookstore or online retailer.
Book Details
| | |
| --- | --- |
| Weight | 349 g |
| Dimensions | 216 × 140 mm |
| Extent | 268 pages |
| Format | Paperback |
| Language | English |
| Genre | Literary Fiction, Metaphysical |
| Release date | 29 August 2016 |
| ISBN | 9781922200457 |
| Imprint | Odyssey Books |
About The Author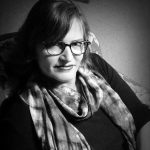 Isobel Blackthorn
Isobel Blackthorn was born in 1962 and has lived in England, Australia, Spain and the Canary Islands. Isobel has worked as a teacher, market trader and PA to a literary agent. She received her doctorate in Social Ecology from the University of Western Sydney in 2006. Her first work, All Because of You: A collection of short stories, was published in 2012 by Ginninderra Press. Her stories and non-fiction pieces have appeared in e-journals in Australia and the United States, including Mused Literary Review and On Line Opinion.