Andal's Garland
In eighth century India, Andal is born into a world where girls are married and with child by fourteen. Defying the mores of her time, she refuses marriage to a mortal man. Only a god will do. Andal's imagination is boundless and her antics set the town's tongues wagging. As Andal becomes more and more absorbed by her visions, she composes songs to her divine lover.
Saisha discovers Andal's songs in a book on a trip to India with her partner Marcus. The verses are confronting and unearth memories Saisha thought were long ago buried. Not only is she unable to conceive, for the past two decades Marcus has chosen celibacy. What defines her as a woman when these two primal desires remain unfulfilled?
Andal's words are deceptively simple, yet shine a lamp on the labyrinths of Saisha's sexuality and her quest to find peace with the choices she has made.
Available now in print and ebook formats from Bookshop.org, Amazon and your favourite online bookstores.
Book Details
| | |
| --- | --- |
| Weight | 400 g |
| Dimensions | 203 × 133 mm |
| Extent | 300 pages |
| Format | Paperback |
| Language | English |
| Genre | Visionary & Metaphysical |
| Release date | 15 September 2021 |
| ISBN | 9781922311344 |
| Imprint | Odyssey Books |
About The Author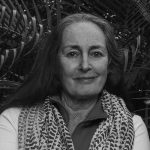 Helen Burns
Helen Burns devoted three years to Asian Studies with a major in Hindi at The Australian National University, until the call to venture deeper overtook the need for a degree. She has since encountered saints and teachers within Indian temples, mosques and ashrams. From all-night qawwalis in Rajasthan, to lone sadhus in mountain caves. From silent meditation retreats in Australia and Myanmar, to the midnight dance-divinations of Araiyers in Srivilliputtur. She now divides her time between Byron Bay and Far North Queensland, and India wherever it takes her. Andal's Garland is her second book.