Joe Basile, the host of HISTORY Channel's "The Jesus Strand: A Search for DNA" started simply as an Italian guy growing up in Chicago as the youngest of ten siblings. Much of his life was shaped by the death of his mom at a young age. He dropped out of high school and became a local rap artist.
As that evolved, his Christian friends' love and fearless sharing of the gospel, with confidence and no judgment, gravitated him to Christ. After he gave his life to Christ, he shifted to rapping about Jesus, but eventually felt called into ministry and currently served as a pastor.
Over his life, he's had the privilege to experience the fullness of loss and the revival that comes through the generous love of others. He lives in Clovis, CA, with his beautiful wife and their three precious children.
Joe, what drew you to write about time travel and the second coming of Christ?
I was driving on a bus full of students to a retreat and I was telling the students how I was annoyed by all the people trying to tell contemporary stories about Jesus coming today. I was irritated because He can't come today since He already came in the past, so I said, the only way you could tell a good story about a Messiah is if you stop him from coming. But how would you do that? You would need time travel and somebody or something super evil. And my story was born.
Were there any authors that inspired you, especially in the sci-fi genre?
The Terminator movie series influenced my thinking on how drastically time travel could alter human history, and CS Lewis using fiction and fantasy to tell great stories you can enjoy at face value or on a spiritual level, and that goes for Tolkien as well.
Were your characters and the setting of your book based upon your own life experiences?
I am a super hero in my own mind. LOL! My main character is a smarter, tougher, version of me, but the dreamer, curious, loyal, loving, and selfless man he is, is the man I strive to be. All of his brokenness and goodness I have felt, lived, and now it lives in him too. I love to source my characters from the darkest places I can imagine and the best places I can dream of and then let their flaws work themselves organically into the story based on their circumstances, creating deep contrast allowing us all to see the person we want to be, never want to be, and the who we are now or have been.
What adventures can we expect your characters to have in future books in this series?
This book is a revealing of a supernatural power struggle set in a ruthless, scientifically advanced, alternate future and it tells about the mysterious and mystical power of the few, but in the following books it shifts to the power of the many. We will see a New World where supernatural power is available to everyone and both good and evil people take hold of it, creating a power struggle that runs deeper than life and death itself.
What is your biggest motivation for writing?
I love it! I love telling stories. I love action and love and writing about how all things are possible. My books will tell stories that cause the dreaming to begin in my book and then continue in your life. All things are possible for you too! Dream friends! ?
How many books have you written?
One and a half. I'm a rookie and I love it! Book two is on the way and it will blow your mind. We are just getting started!
What would you say is your biggest accomplishment?
Becoming a Christian. My faith took me out of a world where I was raised in a mob crime family and brutal violence that took so many of my friends' lives, and it placed me in a position to now tell stories in books, on tv, or from stage that give hope, create healing, and cause people to see that they aren't alone, they are loved, and all things are possible with God.
What advice would you give a young writer trying to get published?
Don't give up! Be humble. Surround yourself with good people who will be honest with you and who will also encourage you. Believe.
What inspires you when you've hit that writer's block?
Prayer. I get out of my head and invite God into my heart and I write from there.
Describe your writing style in three words.
Action. Clever. Heart-warming.
Follow Joe
Facebook: https://www.facebook.com/JoeBasileAuthor/
Twitter: https://twitter.com/jesustattoos
Goodreads: https://www.goodreads.com/author/show/19573091.Joe_Basile
Bookbub: https://www.bookbub.com/authors/joe-basile
Amazon: https://www.amazon.com/Joe-Basile/e/B07Y41XSP5
Joe's Book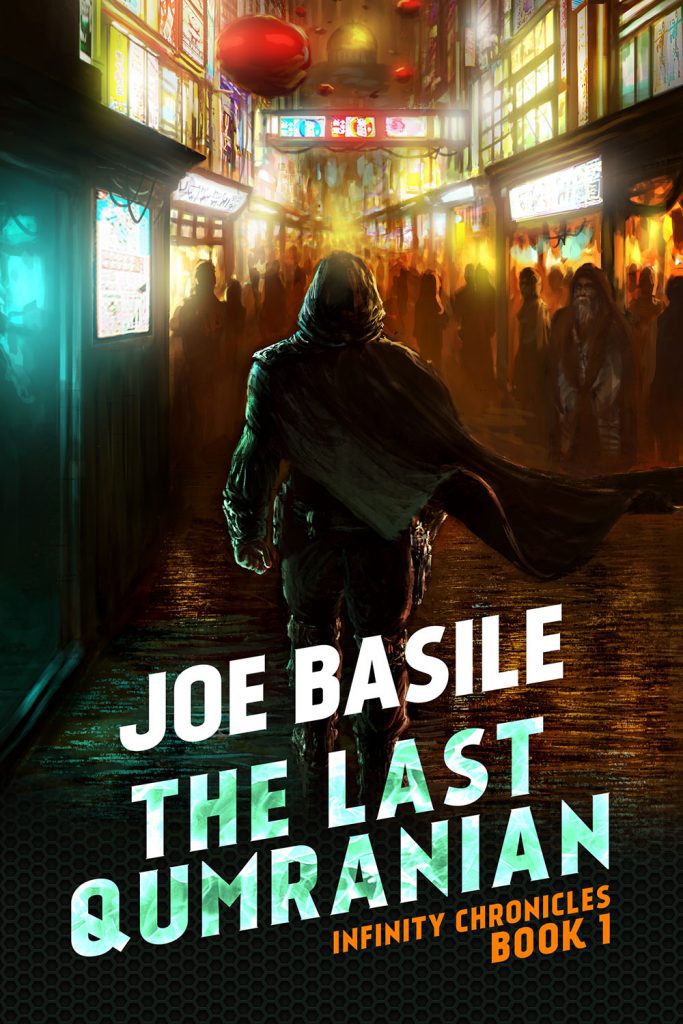 Time travel has been used to stop the birth of Christ, altering the timeline of human history.
Download a sample